November 29, 2021
It's beginning to look a lot like Christmas. Seriously, it's like we went from Halloween straight to Christmas bypassing Thanksgiving entirely. Okay, so that's a slight exaggeration even though Christmas music was blaring out of store speakers, Mariah Carey was belting out All I Want For Christmas in your car, and lit-trees were popping up in windows across Maine before turkey day arrived. Despite the fact that we've not yet had snow that sticks to the ground for more than a minute, it is official – the holiday season is in full swing. If you're planning on traveling to celebrate with family or welcoming them into your home this year, you really need to pay attention to one detail that could turn you into Scrooge or the Grinch, and that is bed bugs.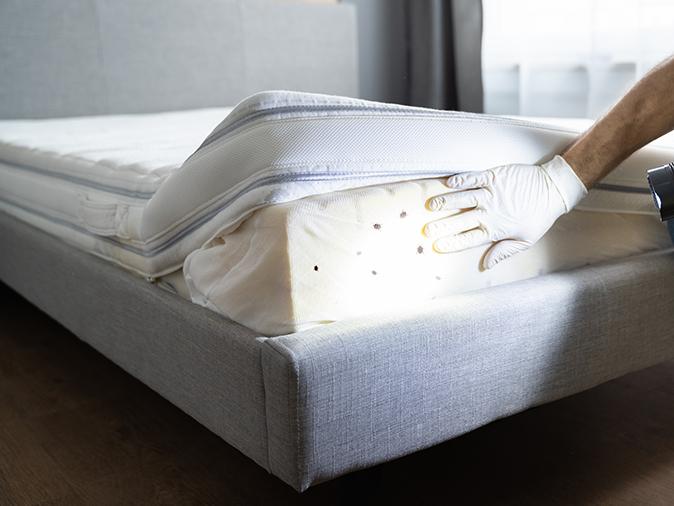 Bed bugs, really?
Yes, really. One of the most common ways for bed bugs to be introduced into a home is on the visitors that… well visit the home. According to Travel + Leisure, the days preceding Christmas are some of the busiest travel days of the year. If you're thinking what does that have to do with bed bugs, stay with us, we're getting there. If lots of people are in the air, on trains, and utilizing other modes of public transportation to get to their destination, it only makes sense that the chances of them picking up bed bugs grows exponentially.
Bed bugs are stealthy hitchhikers that attach themselves to clothing, bags, and even people they encounter. When those same people arrive at your home or if you are those people and enter someone else's home, you may unknowingly introduce bed bugs.
Travel isn't the only way to get bed bugs
While travel is a major contributor to bed bug infestations, it is not the only way you may find yourself dealing with these biting pests over the holiday. For instance, if you have a college-aged child who resides in a dorm or even shares an apartment with fellow students, the possibility of he or she bringing bed bugs home along with their dirty laundry is a very distinct possibility.
If you live in an apartment complex or own a townhouse, you could also find yourself with bed bugs even if you didn't travel or welcome any visitors. It's entirely possible one of the units beside you or under you developed a bed bug problem and now they're sharing their problem with you- not in a malicious way though- they probably don't realize bed bugs can travel under flooring or through walls. They may not even know they have a bed bug problem!
Bed bug prevention tips for the holiday season
We realize inspecting each guest before they enter your home does seem a bit rude but, on the other hand, both you and your guests will be grateful to catch a problem before it has the chance to really become a big one. With that in mind, we recommend finding a delicate way to ask your family or friends to do a quick inspection of themselves and their suitcases before entering your home. We'd also recommend washing their traveling garments as soon as possible.
If your guests haven't traveled and are just stopping by for the party, you don't necessarily need to go through with our first step. Rather, in advance of your company's arrival, simply clear out the coat closet by the door and have your guests store their coats and gear in there. Don't forget to vacuum the closet out after the party and discard the vacuum bag right away.
If you're are on the move to join loved ones for the holidays and your traveling itinerary includes a night or two on the road, be sure to inspect your hotel room very carefully before you settle in. If your travel party includes multiple people, divide and conquer. Leave one contingent in the hallway with the luggage while the other group turns their phone's handy flashlight app on and starts inspecting the mattress, box spring, headboard, nightstands and other furniture for bed bugs. If it's just you, simply put your belongings in the tub before you inspect the room.
Upon arriving at your destination, we recommend inspecting yourself and your suitcases outside of the home, changing as soon as you can, and washing clothes right away.
After returning home, repeat the inspection, changing, and washing process to be sure you don't bring any biting bugs inside with you.
What happens if bed bugs show up?
If, despite your best efforts, you find yourself saddled with a bed bug infestation, contact a pest control company that specializes in bed bug control right away. With prompt, professional (NO DIY) service, you can get rid of bed bugs – completely!
How Pine State Pest Solutions gets rid of bed bugs
At Pine State Pest Solutions, we are Maine's Premier bed bug exterminators and offer highly effective bed bug treatments in Portland, Saco, and Augusta as well as throughout our entire service area. When you choose us to get rid of you bed bug infestation, here's what you can expect:
A thorough bed bug inspection performed by a highly trained and fully licensed pest control technician.
An eco-friendly yet lethal bed bug heat treatment OR a conventional treatment, depending on your unique situation and the severity of the infestation.
Follow-up service to ensure bed bugs are completely eradicated.
What's more, for property owners that qualify, Pine State offers a 30-day bed bug guarantee effective from the date we give your infested area the all-clear. For more details about our bed bug guarantees, please ask our friendly team.
While the thought of dealing with bed bugs over the holiday season makes you feel itchy and irritable, it doesn't have to steal your joy. Here at Pine State Pest Solutions, we stand ready to help you combat these insects- whether it's over the holidays or any other day of the year!